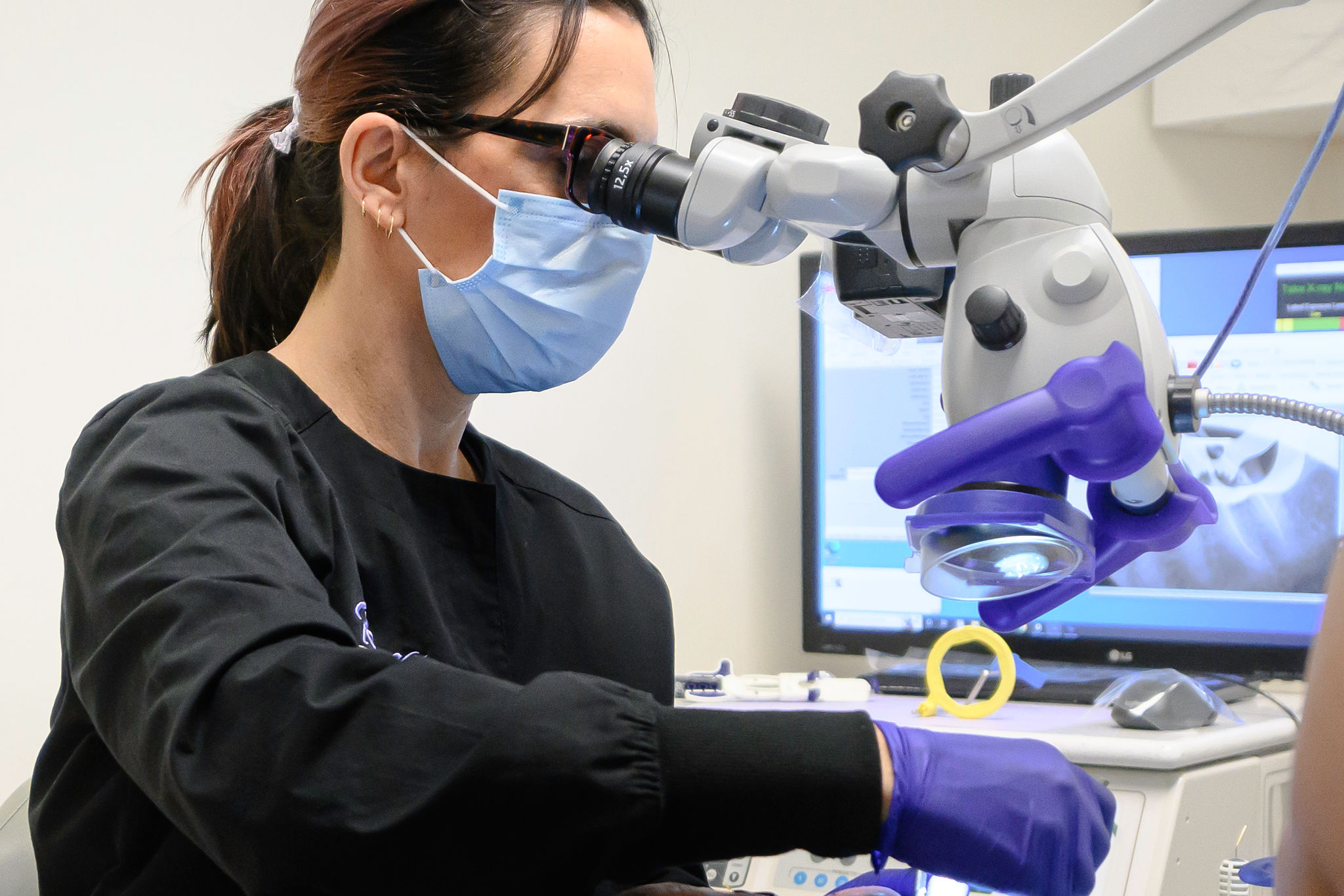 What Sets Us Apart?
Our office provides high quality, state of the art, patient-centered care in a calm and pleasant environment.  Our goal is to ensure each patient has a comfortable experience as we relieve their pain and save their natural tooth or teeth.
Dr. Russo is a highly-trained, board certified endodontist who is skilled and experienced in her specialty. While all general dentists have some training in root canal therapy, Dr. Russo completed a rigorous 3 year postdoctoral Endodontic residency program as well as a Masters of Science in oral biology. She performs routine and complex root canal treatments every day, ensuring each patient's care is efficient and comfortable. Her specialized training is focused on treating dental issues inside the tooth – what is known as the tooth pulp. Treatment of the pulp, if done properly and in a timely manner, can save the tooth and give a healthy foundation for the function of the final restoration.
Our Technology:

Prior to any procedure, Dr. Russo utilizes state-of-the-art advanced endodontic digital imaging technologies for thorough diagnostics and treatment planning. During the root canal treatment, she uses a specialized operating microscope with advanced magnification and illumination in order to visualize complicated root morphology and/or cracks and fractures of the tooth.  
Our Team:

Our clinical staff is well-trained and skilled at assisting our doctor and at supporting and educating our patients. Likewise, our front office staff is here to assist with scheduling, paperwork, financials including insurance, and coordinating with the referring practice. The team will do everything possible to make the process seamless.
Our Commitment to Ongoing Learning

: Dr. Russo and her staff participate in continuing education courses and training, staying at the forefront of the latest developments in endodontics, patient care, and customer service. They are dedicated to providing patients with evidence-based care, using leading-edge technologies and conservative methodologies.
Our Atmosphere:

We have designed our office to be a calm and supportive environment. We want to eliminate any areas of potential stress, so we maintain a professional, clean, and welcoming atmosphere where patients feel reassured throughout their appointment. 
Everyone at Russo Endodontics looks forward to meeting you. It will be our pleasure to save your tooth, relieve your pain, and help you return to enjoying life. Please contact us to learn more and schedule an appointment.