What is Vital Pulp Therapy
Vital pulp therapy and regeneration services are available at Russo Endodontics.
Set up a consultation by calling today at 703-503-0555 or schedule an appointment online.
Vital pulp therapy, also known as apexogenesis, helps strengthen a tooth's root's development and growth, maintaining the vitality of the tooth and increasing its longevity. Russo Endodontics provides state-of-the-art vital pulp regeneration services to those with severe tooth decay or other damage to their dental pulp.
The Vital Pulp Therapy Process
There are two different clinical practice types when it comes to vital pulp therapy available to endodontic patients. Both involve pulp capping, a restorative procedure used to prevent exposed pulp from dying.
Indirect Pulp Capping involves the dentist placing protective layers of material on top of thinning dentin. Doing so allows nearly exposed pulp tissue to recover without further risk of exposure.
Direct Pulp Capping, or pulpotomy, is often performed when dental pulp is exposed or infected. In these cases, the dentist will remove coronal pulp and place a protective agent right against the remaining exposed pulp. This procedure promotes dentin-pulp complex regeneration, allowing a tooth's roots to continue to grow and develop.
The deciding factor in choosing which procedure to perform depends on the condition of the affected tooth. The dental staff at Russo Endodontics is always happy to answer any questions and discuss all available treatment options.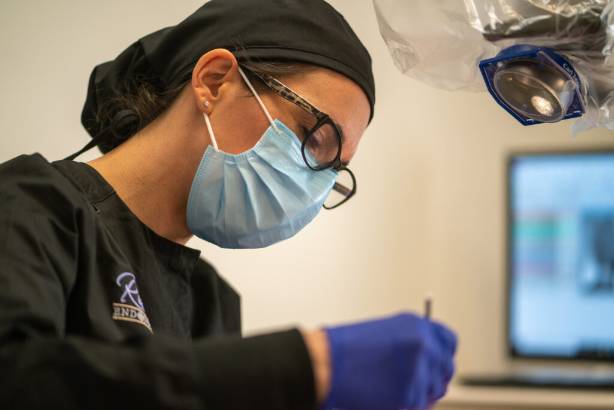 Vital Pulp Therapy Benefits
Vital pulp regeneration services in young adults can help regain a tooth's natural ability to grow after suffering from severe tooth decay or damage to its pulp. The pulp capping process heals the outer dentin of teeth immediately and the inner wound over time. Benefits include:
Maintaining the vitality of the tooth
Continued healthy root development
Shortly after treatment is complete, the tooth can be cared for as usual, and the tooth's development and health can continue safely and comfortably. The sooner potential issues are caught, the easier they are to treat with a shorter recovery time.
Vital Pulp Therapy With Russo Endodontics
If you, or anyone you know, require vital pulp therapy or regeneration services, Russo Endodontics serves patients in and around Burke, VA. Our team of dental professionals uses state-of-the-art treatments to provide the best results. Give us a call today to set up a consultation by calling (703) 503-0555 or scheduling an appointment online.